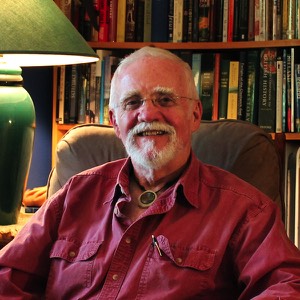 Many people were surprised that I became a writer. I'm dyslexic. Which adds a curious challenge to writing (not to mention learning to read). But I'm in good company. W.B. Yeats, Jules Verne, and F. Scott Fitzgerald were also dyslexic. As were Fannie Flagg and J.K. Rowling, to name but a few.
I learned to read in part by memorizing the silhouette of words. Which is like recognizing people by their shadows. Somehow it worked. Eventually. The first novel I ever read was in fifth grade. It was Jack London's Call of the Wild. I was so captivated with the magic of London's story – and that I'd managed to finish it – that I never returned the book to the library. It sits in my personal library to this day – and is still treasured.
I was born along the Colorado Front Range, and grew up near the southern terminus of California's Big Sur Range in California. Physical setting typically figures prominently in my stories. Nowhere is this truer than in Dream Singer, where the land becomes, in essence, a vital character.
I started out as magazine freelance writer in the South, writing about life in a Trappist monastery in Georgia, Civil Rights activist Julian Bond, and crossing the continent by freight train, among other stories. Today, in addition to writing fiction, I'm a ghostwriter, writing coach, and writing instructor at the Maine College of Art. I live with my wife on the coast of Maine.
Dream Singer is my first novel. But I have others– all very different – in various stages of rewrite. You can read excerpts of four of them, along with other stories and book reviews, on my
Portfolio
page. So stayed tuned. There are more to books to come.
For more information on the author, read
A Story Teller's Story
.